Country of the Week: Togo
This week we're celebrating Togo, as well as three Togolese individuals who support and advance individual rights and civic engagement. 
David Gilmour, the U.S. Ambassador in Togo has a special message for Togolese members of the YALI Network:
Pour lire le message de l'ambassadeur en français, cliquez ici.
The Young African Leaders Initiative (YALI) is very special to me. Before I was named Ambassador, I was part of the team in Washington, D.C. that created the YALI program, and I have watched with pride as it has grown over the past several years. Since arriving in Togo to serve as U.S. Ambassador, I've seen first-hand the incredible work that our YALI members are doing to bring positive change to their communities and build a brighter future for Togo.
This week, on the occasion of Togo being named the "YALI country of the week," my message to you is this: Thank you!
YALI's success, throughout the continent, but especially in Togo, can be attributed to you, the members. By embracing your role as young leaders, you've improved your community and grown the YALI Network in Togo to over 3,300 members, (and counting!) – imagine what can happen as that number, and your commitment, grows!
There are so many examples of how YALI network members are making a difference in Togo. Take, for example, the recent series of civic engagement activities organized by YALI members in Sokode, Kara and Dapaong. During two days in each region, YALI fellows (including Sylvie Mensah, Aboubakar Douti, Nadege Afoutou, Emefa Kpegba, Charles Akakpo, Hombe Kafechina, and Grace Kudzu) trained class leaders from several high schools in leadership and community service. They then put their words into action by cleaning public venues such as hospitals and schools together with the young participants, staff members and parents.
Another great example of a YALI member who is creating positive change is Rolande Azakia. Rolande, who is a graduate of the YALI Regional Leadership Center in Senegal, created an online television platform dedicated to exploring environmental issues and sustainable development. She has interviewed numerous public figures for her TV program, including me.
I can also highlight the great contributions of Kakpo Kossi, a member of our YALI network who attended the Embassy-sponsored "Agri-Tech Camp" in Kara. This event was designed to put young farmers in contact with young entrepreneurs and software developers, to devise innovative solutions that will help unleash the potential of Togo's agricultural sector. Kakpo manages "Agri-Focus" a consulting firm focused on agriculture development in Atakpame. Our Agri-Tech Camp gave him a chance to expand his network and grow his business to meet the needs of this rapidly developing sector.
There are many more examples I could give but I would run out of space! Suffice it to say that members of our YALI network are doing great things all over Togo.
So to all members of the YALI network, I encourage you to keep being active in your communities and to keep sharing your successes, no matter the size, to empower and inspire each other through your work.
Our embassy wants to be a partner with you as we continue our efforts to help strengthen democracy and good governance in Togo, foster economic growth, expand opportunities, and promote peace and security.
I have said many times that I see Togo as a country on the move. But for Togo to really take off, it depends more than anything else on a rising generation of leaders. It depends on you.
You're smart, you're talented, you're optimistic and full of energy. You've already shown you can make a difference. I have no doubt that each of you will "pay forward" the small investment that the U.S. government has made in you 1,000 times over by the contributions you make to your communities, from Dapaong to Sokode to Atakpame and Lome.
Keep up the great work!
Yours sincerely,
David Gilmour
United States Ambassador to Togo
These YALI Network members have also done great work in their communities and were featured on the YALI Network Facebook page this week. Read inspiring member stories below, and you'll see why Togo is this week's #CountryoftheWeek!
Our first featured YALI Network member, Denis Dola, comes from the capital city of Lomé. As an active YALI Network member, he hosts #YALILearns events to introduce online courses and share educational resources with his community. "I see the enthusiasm of my people, who are eager to learn new skills and improve their lives," Denis notes.
Topics at these events range from book talks to English language training to conversations about democracy and elections. Denis believes that these discussions are valuable for Togo's youth and provide "an amazing experience to broaden their ambitions and boost their self-confidence." His impactful participation engages many men and women with the YALI Network. "I positively impact my community by sharing relevant information and educational tools."
Denis has completed many YALI Network Online Courses, receiving certificates in areas of climate change, civic engagement, and leadership. His passion for driving change is evident, and his outlook for Togo's future is wholeheartedly positive. "Exposing people to education inspires them to dream and improves personal resilience when faced with a challenge," he states.
Our next featured member, Akouavi Nora Topou, also comes from Lomé, where she initiated a program to enhance gender equality and empower females in her country. "I implemented a project called Men As Partners," she explains. Her program reaches 30 young students with weekly interactions. "We also mentor 10 girls, providing support in their general studies and teaching them about sexual health."
Akouavi Nora's work also includes extensive volunteer projects where she devotes her time to spreading awareness about sexual health issues. "I want to build a helpful environment for young people to claim and access their sexual and reproductive health rights." She educates 10 adolescents about their rights with the ultimate goal "of reducing the number of early and unintended pregnancies among girls ages 10-20."
In addition to her focus on the rights of women and girls, Akouavi Nora works to share civic leadership skills with students. She has created several clubs, called Patriots Junior, in three private schools, explaining, "this project aims to promote a new generation of Togolese youth who promote democratic values and principles."
Hezouwe Moise Akebim's lifelong passion for community service started while he was in primary school in his home of Lomé. After extensive participation serving and leading educational clubs, Hezouwe Moise began taking YALI Network Online Courses while at University. He strengthened his leadership and motivation skills, explaining that "these courses have positively impacted his work with Amnesty International Togo and partner NGOs."
"The YALI community has been a driving force for me," he says. Hezouwe Moise's work includes addressing human rights, and he helped start the Association Justice Accessible Togo (AJA-Togo), which is committed to making justice accessible for all, particularly women and impoverished communities. "I have organized assistance programs and awareness campaigns to eliminate stigmas about women and children in hospitals and orphanages." His work has provided hundreds of birth certificates and substitute birth certificates to women and children in Lomé, Agoè, Sagbado, Kétao, and Atakpamé.
Most recently, Hezouwe Moise began working with Africa Team Up, a program that addresses common challenges in African communities. "We are coordinating youth and youth organizations that are committed to building impactful change and positive outcomes for Togo and Africa as a whole." He truly believes that effective leadership can inspire communities to achieve important goals.

David Gilmour, l'Ambassadeur des Etats-Unis au Togo a un message spécial pour vous cette semaine:
L'initiative «Young African Leaders » (YALI) est très spécial pour moi. Avant d'être nommé Ambassadeur, j'ai fait partie de l'équipe à Washington, qui a créé le programme YALI, et j'ai observé avec fierté comment il s'est développé ces dernières années. Depuis mon arrivée au Togo pour servir comme ambassadeur des Etats-Unis, j'ai moi-même vu le travail incroyable que nos membres YALI font afin d'apporter des changements positifs dans leurs communautés et de bâtir un avenir meilleur pour le Togo. Cette semaine, dans le cadre de la sélection du Togo comme « pays YALI de la semaine », mon message à vous est le suivant : Merci !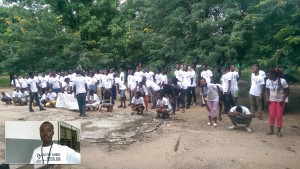 Le succès de YALI, sur tout le continent, mais surtout au Togo, peut être attribué à vous, les membres. En jouant votre rôle en tant que de jeunes dirigeants, vous avez amélioré votre communauté et développé le réseau YALI au Togo à plus de trois mille trois cents membres, (et plus !) – Imaginez ce qui peut arriver au fur et à mesure que ce nombre, aussi bien que votre engagement, s'accroît.
Il y a tant d'exemples qui montrent comment les membres du réseau YALI font une différence au Togo. Prenons, par exemple, la récente série d'activités sur l'engagement civique organisée par les membres YALI à Sokodé, Kara et Dapaong. Pendant deux jours dans chaque région, les boursiers YALI ont formé des chefs de classe de plusieurs lycées en matière de leadership et de services communautaires. Puis, ils ont concrétisé leurs mots par le nettoyage de lieux publics comme les hôpitaux et les écoles avec la participation des jeunes, des membres du personnel et les parents.
Un autre bon exemple d'un membre YALI qui crée un changement positif est Rolande Azakia. Rolande, qui est un diplômé du YALI Regional Leadership Center au Sénégal, a créé une plate-forme de télévision en ligne dédiée à l'exploration de questions environnementales et du développement durable. Elle a interviewé plusieurs personnalités publiques pour son émission de télévision, y compris moi.
Je peux également souligner la grande contribution de Kakpo Kossi, un membre de notre réseau YALI qui a assisté au camp de technologie agricole parrainé par l'ambassade des Etats-Unis à Kara. Cet événement a été conçu pour mettre des jeunes agriculteurs en contact avec des jeunes entrepreneurs et développeurs de logiciels, dans le but de concevoir des solutions novatrices qui aideront à libérer le potentiel du secteur agricole du Togo. Kakpo gère « Agri-Focus » un cabinet de conseil axé sur le développement de l'agriculture à Atakpamé. Notre Camp de technologie Agricole lui a donné une chance d'étendre son réseau et faire croître son entreprise pour répondre aux besoins de ce secteur en développement rapide. Il y a beaucoup plus d'exemples que je pourrais donner, mais je ne disposerais pas d'assez d'espace ! En bref, les membres de notre réseau YALI font de grandes choses à travers le Togo. Donc à tous les membres du réseau YALI, je vous encourage à continuer vos activités au sein de vos communautés et à partager vos succès, peu importe la taille, à responsabiliser et à inspirer les uns et les autres grâce à votre travail.
Notre ambassade veut être votre partenaire pendant que nous poursuivons nos efforts pour aider à renforcer la démocratie et la bonne gouvernance au Togo, favoriser la croissance économique, élargir les possibilités et promouvoir la paix et la sécurité.
Je l'ai dit plusieurs fois que je vois le Togo comme un pays en mouvement. Mais pour que le Togo décolle vraiment, il dépend plus que toute autre chose, d'une génération émergente de dirigeants. Il dépend de vous. Vous êtes intelligents, vous êtes talentueux, vous êtes optimistes et pleins d'énergie. Vous avez déjà démontré que vous pouvez faire une différence. Je ne doute pas que chacun de vous « paiera au-delà », du petit investissement que le gouvernement américain a fait en vous, mille fois au-delà par les contributions que vous apportez à vos communautés, de Dapaong à Sokodé, et d'Atakpamé à Lomé.
Continuez votre excellent travail !
Sincères salutations
David Gilmour
Ambassadeur États-Unis au Togo