Country of the Week: Cameroon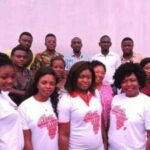 Congratulations, Cameroon — you're the YALI Network Country of the Week! We are so inspired by your leadership, creativity and commitment to your fellow Cameroonians. Like Fanny Bessem from Buea (above) says, we are strong because "we all support each other."
Read on to learn more about the three young Cameroonian leaders we're featuring this week, and about all the impressive work they're doing that makes them so remarkable!
First, we turn to Vumomsi Ngwefonta'a, a budding fashion designer from Bamenda. After receiving YALI certificates in Design-Driven Entrepreneurship and Workforce Collaboration and Development, Vumomsi decided to combine her passion for fashion and desire to help others by hosting #YALILearns events for students of local technical schools in her "Fashion Lab."
Vumomsi, who has hosted six trainings so far, says she chose this model "because technical schools in Cameroon are failing to provide students and girls with the relevant skills and knowledge they need to be economically independent."
For her hard work, Vumomsi was recently chosen to be a guest speaker for Global Entrepreneurship Week at the U.S. Embassy in Yaoundé. "It's been an immense fulfillment for me to assist other fellows in their YALI events and hosting business and entrepreneurship events in our Fashion Lab," she says. "I'm glad to say that our lab is now open for 20 young girls to come in when they can to work on their skills, execute their projects and understand the business of fashion."
"We mentor them to become great entrepreneurs and to be the change Cameroon deserves."
Our next featured member, Eline Bassey Dimithe Bang from Yaoundé, founded a "Green Ladies" association that empowers young women in her community "to develop greening habits at home and to take action for the protection of the environment."
With the help of the Cameroon government, Eline and her Green Ladies hosted a #YALIGoesGreen event in Garoua called "Operation 1,000 Trees," fighting deforestation by planting over a thousand trees in the region. She was also recognized by the U.S. Embassy in Yaoundé for her great work.
Our final featured member this week, Desmond Atanga from Bamenda, calls the YALI Network "like my everyday breakfast — it nourishes me with invaluable skills that I use to be a great servant leader and in tackling pressing issues in my community."
Desmond is applying these skills in support of women and girls by "working to bring comprehensive sexuality education to over four million youths in Cameroon by 2025" through a project run by Deserve Cameroon.
"With my #YALILearns know-how and YALI Network courses," Desmond says, "I led a successful campaign by garnering support from the grassroots" that won him meetings with top-level officials in the Ministry of Secondary Education. "Consequently," he says, "17 government officials signed a commitment to have the syllabus taught in Cameroon secondary schools." So far, over 110 students in Kumbo and Bali "have been engaged as ambassadors for gender equality."
"Having hosted three #YALILearns events, I am very proud to be a member of this esteemed network. My work in my community and country, Cameroon, is witnessing a more impactful influence owing to my belonging to this marvelous network!"