HIV/AIDS is a human rights issue too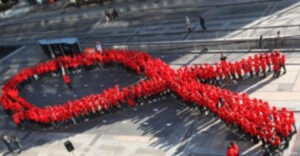 Since 1988, December 1 has marked World AIDS Day to commemorate people who have died from the disease and to show support for those who are living with HIV. Because of antiretroviral medication, HIV is no longer an automatic death sentence. But the stigma surrounding people living with the chronic medical condition and their difficulty in getting access to health care has made HIV/AIDS a human rights issue as well as a health challenge.
According to Noor Raad, an HIV/TB policy intern at Médecins Sans Frontières (MSF), misinformation has led to much of the stigma faced by people living with HIV. "One of the myths is that HIV is only for gay men, and so if you have HIV that means that you are participating in that type of behavior," she said.
"Another myth is just the ways that you can become infected with HIV," Raad said. Some incorrectly believe that the disease can be transmitted simply by touching someone with HIV or drinking from the same cup.
"Children who are HIV-positive face a lot of discrimination and judgment and social isolation at school because of this. A lot of their peers think that if they sit next to them they can get it, and this is an ongoing problem … all over the world," she said.
At the same time, she said, many people fail to understand that sharing a needle actually is a way to get infected.
Raad said HIV is prevalent among groups that are often already marginalized, like sex workers, gay men and drug addicts. She said up to 40 percent of adults in central and southern Africa are HIV-positive, and across sub-Saharan Africa the average infection rate has risen from 25 percent in 2005 to 36 percent today.
"There are a lot of human rights implications that have been raised for people living with HIV — in particular, the large and growing disparities and inequities regarding access to antiretroviral therapies and other forms of care and treatment," including shortages of medication and an insufficient number of health care personnel, Raad said.
"What ends up happening is patients feel very isolated and they lack peer support," she said, noting that the isolation can lead to mental health issues, in addition to the challenges of living with HIV. "A lot of the patients that I worked with, I think like 80 percent of them, were either depressed or anxious or had suicidal thoughts, or tried to kill themselves. So I think on top of all of that, if you have negative energy from your peers and you are being socially isolated, it's just kind of a setup for disaster," Raad said.
Despite the fact that many countries have laws protecting people living with HIV, the laws are not always enforced. For sex workers, gay men and drug users who are disproportionately affected but whose activities are often criminalized, many fail to seek help, fearing legal punishment as well as the judgment of their community. The result is that those who most need information, education and counselling will not receive it, even where such services are available.
Raad said it is usually not possible for people to hide the fact that they have HIV because it is a required disclosure at work or school, and in smaller communities people will likely know why a person is visiting a health clinic. Those living in poverty or in rural areas also have difficulty accessing medical care when facilities are far away or poorly staffed. Raad said MSF has made supplying decentralized care an important part of its mission, especially in central and West Africa.
There are several ways you can help people with HIV feel less stigmatized, she said.
Educate yourself on the myths and facts surrounding HIV transmission.
Speak out when you hear jokes or derogatory comments made about people with HIV.
Join a local NGO or support group that is advocating for the rights of people living with HIV or a support group that is actively trying to combat stigma and get medications to them.
Organize a workshop or training session at school or work, or through your community or your religious organization, to spread the word on how to prevent infection and to better educate your peers so those living with HIV will not be targeted or judged.
If you know someone with HIV, create a safe space for them to talk about their condition and feel less socially isolated. "The fact that they shared that information with you is a pretty big deal," Raad said, since many don't even tell their parents or families. "The most important thing is to gain the person's trust and make them feel that they are not being judged," she said.