Will African Superhero Malika Win Readers' Hearts?
West Africa, 15th century. Malika, a child prodigy who became queen and military commander, does her best to maintain peace in her kingdom of Azzaz. But she is faced with enemies set to undermine her at any cost.
A female, black and sword expert, Malika is the latest character created by Roye Okupe, a Maryland-based graphic novel author. Why create a black female superhero?
"I feel like the depiction of a strong and powerful queen– and I'm not talking physical strength only — is something everyone, especially little girls need to see more of. (…) Now with Jessica Jones on Netflix and Supergirl on TV, people are finally starting to warm up to the idea. However, there are still very few female leads compared to male ones, and let's not even talk about black-African female leads, which seem pretty non-existent", he says.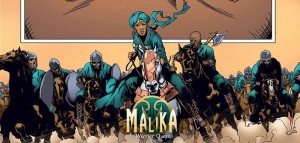 Malika: Warrior Queen mixes fantasy and African history. As he created the character, Okupe says he was inspired by the real African legend, Princess Amina of Zazzau, in Nigeria.
Okupe is also Nigerian. He came to the U.S. in 2002 at age 17. He launched his company YouNeek Studios* in 2012, specializing in the creation of African superheroes.
"I have always had a dream to create a superhero from Nigeria where I was born and raised. And I wanted to do something positive and inspirational for my country and my continent. When people see my characters: E.X.O., Malika, Fury, WindMaker and others, I want them to see a different side of Africa that isn't regularly shown in mainstream media", he says.
Roye Okupe himself is an inspiration. As a young entrepreneur, he managed to finance his comics E.X.O. The Legend of Wale Williams through successful crowdfunding campaigns on Kickstarter. His last campaign, launched in October to make Malika come to life, was also a success.
"Crowdfunding is hard. It's like a full time job," he says. "My advice would be to look at people who have been successful in crowdfunding a product similar to yours. Also look at people that failed and learn from both."
Roye works also as a freelance web designer et graphic artist. This activity allows him to earn additional funds for the creation of his graphic novels. His recipe for success is to "work hard. Harder than anyone in your industry. One thing that has worked for me is, while I'm not the most talented person within my industry, not by a long shot in fact, I have decided that we all have 24 hours in a day. So my job is to try to outwork everyone, every day," he says.
Several other black superheroes in the U.S. have captivated the imagination of generations of readers. T'Challa, aka Black Panther, who is also African, is generally viewed as the first one. He appeared for the first time in 1966, in Fantastic Four #52, from Marvel Comics. Other African-American superheroes followed, like Storm, also from Marvel, Green Lantern, from DC Comics, Quantum, from Valiant Comics, and many more. Some are again popular today, like Luke Cage, aka Power Man, whose own TV series is a big hit on Netflix. So this is not a new market, but Roye Okupe thinks he found a niche.
"I think having heroes with an African background and perspective brings something new to the genre. These guys think differently, they process things differently, have a different set of problems, different villains to deal with and they react differently to them", he says.
Okupe hopes pop culture is ready to include more diversity. After all, what draws us to superheroes is mainly their personality and the cause they fight for. Will readers embrace Malika's fight? Find out in June 2017, when the comic will be released.