YALI Voices: Sugarcane in Mauritius
Contributed by Ukshay Venkataswami, 2018 Mandela Washington Fellow and third-generation sugarcane farmer in Mauritius.
Did you know?
Sugarcane was the first cash crop introduced in Mauritius by the Dutch, who initially used it to make an alcoholic beverage called "arrack."
It was under French colonization from 1737 to 1745 that the sugar industry took off, with the import of new technology to build new mills. After the British took over Mauritius, the sugarcane industry employed over 90 percent of the population. It was during this time that the first white sugar in the world was produced at La Gaiete sugar mill in Mauritius in 1868. In 1858 there were 259 sugarcane mills around Mauritius. However, after independence in 1968, the number of sugar factories in operation steadily decreased, with only four left as of 2018.
Agriculture Technology in Mauritius
Gone are the days of seeing ox carts carrying sugarcane to the mills and seeing sugarcane field workers walking to the sugarcane fields in the early morning carrying baskets on their heads. Nowadays, sugar production only contributes 2 percent to the national GDP, but the industry is diversified, with the production of electricity from bagasse (a byproduct of sugarcane) and real estate projects. The sugar mills are centralized in four strategic parts of the island, with an annual production of around 450,000 tons of sugar annually. There are harvesters and big trucks for cutting and transport of sugarcane to factories, compared to the last decade, when smalls trucks were loaded with sugarcane manually.
Sugarcane field workers are also becoming scarce, with not many manual jobs available following the mechanization of the harvest. Nowadays, there are tractors to apply herbicides and fertilizers. This new technology helps to keep sugarcane farming sustainable in Mauritius as prices of sugar fall on the global market. Many small farmers have formed small cooperatives to be able to survive and also benefit from the fair trade certification, which provides an additional income for the farmers.
The Future of Sugarcane in Mauritius
Most of the agricultural land in Mauritius is used for sugarcane production, but over the past few years, sugarcane production has consistently decreased. Small farmers are abandoning their lands due to high operating costs as well as a decrease in global sugar prices. With the help of the European Union, the government of Mauritius has implemented programs to help small farmers thrive by providing derocking facilities, aiding with land preparation and supplying cane cuttings at minimal cost.
Many small farmers have joined fair trade–certified cooperatives in order to benefit from fair trade grants. These cooperatives offer a great platform for small farmers to collaborate by sharing resources and technology to enable sustainable farming practices.
Farmers are also supported with new research and development in sugarcane farming by the Mauritius Sugarcane Industry Research Institute (MSIRI). This includes the development of new varieties of sugarcane that are resistant to diseases and climatic conditions, which results in higher crop yields. MSIRI also analyzes the soil before a new plantation opens in order to know which minerals need to be added to the ground for optimum growing conditions.
The two main byproducts of sugarcane, bagasse and molasses, provide an additional income for farmers. Bagasse is used by thermal power stations to produce electricity, and molasses is processed to make ethanol. Ethanol is primarily used in the production of spirits currently, and maybe in the future it can be mixed with gasoline to be used as car fuel.
The sugarcane industry in Mauritius has faced many challenges, but it has proven its resiliency with support from both the government and the private sector. I believe that with more effective partnerships between big sugar estates and small farmers that we can achieve much more.
Ukshay Venkataswami is a board member and treasurer of the Saint Pierre Cooperative Society, which is a fair trade–certified cooperative for small sugarcane farmers. He manages 20 acres (8 hectares) of sugarcane farms and is helping small farmers to find new, innovative ways to reduce costs of production.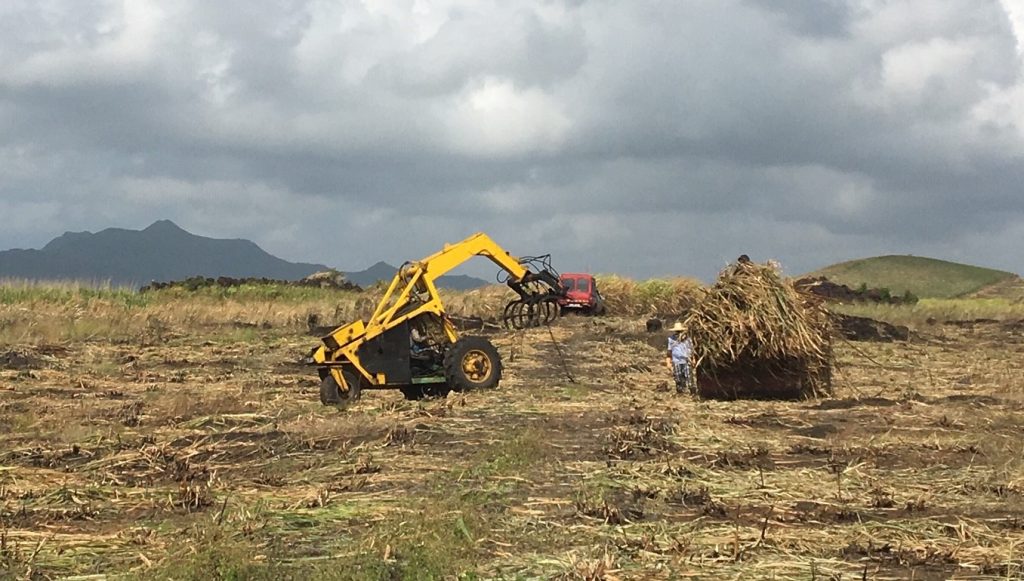 The views and opinions expressed here belong to the author and do not necessarily reflect those of the YALI Network or the U.S. government. YALI Voices is a series of podcasts, videos and blog posts contributed by members of the YALI Network.