#YALICHAT Wrap-up: 2017 Mandela Washington Fellowship Application
Experts from the U.S. Department of State answered your questions about the 2017 Mandela Washington Fellowship with a three-day Facebook #YALICHAT. We've compiled the most frequently asked questions, with answers from those who know best!
APPLICATION REQUIREMENTS
Many of the #YALICHAT participants wanted to know if they qualified for the Mandela Washington Fellowship based on their age. Applicants age 21 to 35 will be considered, but those between the ages of 25 and 35 are preferred. Those under the age of 21 must provide an exceptional application for consideration.
#YALI2017 applicants do not need to possess a valid passport at the time of their application. Having a passport will not assist or hinder applicants.
One potential applicant asked how his residency will affect his application eligibility.
Mandela Washington Fellowship applicants must speak proficient English to participate in the program.
YALI Network membership is not required to become a Mandela Washington Fellow, but taking the YALI Network Online Courses will assist applicants with their public speaking skills and further prepare them for the second step of the application process, the interview.
APPLICATION CONTENT
Many applicants apply multiple times before being selected as a Mandela Washington Fellow. Their applications improve greatly every year. If you're resubmitting your application, include your latest accomplishments and strengthen your essays. Be careful if you choose to copy and paste your answers from a previous year's application because it changes each year.
Include all relevant leadership activities in your application, past and present. This will greatly strengthen your chances of being selected. When you choose your track, ensure your choice represents your leadership experience and goals. You cannot edit or add to your application once you've already submitted it. Multiple submissions in the same year will lead to disqualification.
Potential applicants also inquired what kinds of documents they should attach to their Fellowship application. Often, applicants attach letters of recommendation from people who can speak to their leadership skills, but it is not required for applicants to include documents in their application.
POST APPLICATION SUBMISSION
If you've you are selected for an interview, your U.S. Embassy or Consulate will reach out to you in January or February of 2017.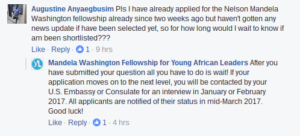 If you still have questions about the Fellowship application, refer to the Frequently Asked Questions page and subscribe to the YALI Network email list to receive tips on how to submit your best application today!