#YALIServes chat with Celestina Obiekea and Mimshach Obioha
Celestina Obiekea and Mimshach Obioha joined the YALI Network for a chat about our service initiative, #YALIServes. Along with this chat, the two created videos that are available on the YALI website, yali.lab.dev.getusinfo.com/serves. These videos highlight all the wonderful parts of volunteering. Throughout the chat, our online audience showed a strong desire to serve their communities but needed guidance on how to get others involved and the best ways to benefit the community.
There are several ways to get involved in your community. Research opportunities online, contact people in your network, or start your own volunteer group. If you find an organization that you want to join, show what skills you have to offer and how you can benefit their group.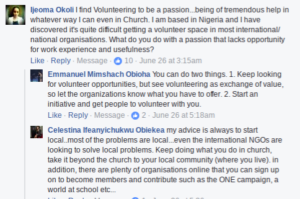 Volunteering can be an excellent way to build your own skills and network with members of your community.
Getting others to share in your excitement about volunteering can be difficult. It helps to show them all the benefits that come with volunteering. The videos at yali.lab.dev.getusinfo.com/serves provide helpful tools to do this.
This initiative coincides with the Nelson Mandela Day of Service on July 18. Look at the map on our website to find a service opportunity near you or start your own!