'You Don't Walk at a Distance; You Walk With Them': How Three YALI Alumni Encouraged Malawi's Youth to Vote
For Chikondi Chauwa, Chris Zambira, and Philip Gama, three YALI Southern Africa Regional Leadership Center alumni in Malawi, encouraging youth participation in the country's general elections started by listening closely to young adults — to their desires and to their discontent — and designing interactive workshops with those concerns in mind.
Among the most pressing issues for the country's youth ahead of this year's elections was the assumption that civic engagement is an activity reserved for the elderly.
"Most young adults in Malawi thought that politics was not for them," Chris says. "They thought it was for an older generation."
Chris, who worked as a teacher before becoming a hospital administrator, knows these and other concerns intimately, and he encouraged the youth to challenge ageist assumptions.
"The youth needed to understand their role as voters, their role as citizens," Chris says.
Mentoring for the Future
For Chikondi, who launched the Girl Rise Up Initiative, an organization aimed at empowering young women and girls through education, another concern for the youth was the need for mentorship.
"In my volunteer work at local schools, I noticed that these students — particularly young women — needed more than funding; they needed mentors," Chikondi says.
Philip Gama, a representative for the International Youth Federation, echoed Chikondi's call for mentorship. For him, it was in secondary school when he noticed that the students around him lacked the leadership skills necessary to chart a new course for the country.
"If these people are going to become the leaders of Malawi," Philip asked himself, "are they going to lead the country in the right way?"
Designing Hands-on Workshops
"They weren't asking a vital question," Philip added. "That is, how do I impact the nation?"
To address this gap, Philip organized leadership training for thousands of young adults from across Malawi.
These sessions, Philip explains, aimed to not only equip the youth with the skills they need to make their voice heard but also underlined why their voice matters today and for years to come.
"It's important that these sessions were interactive, too," Philip says. "Hands-on activities like brainstorming, developing action plans and presenting new ideas were key. With them, participants could take ownership of their ideas and feel a real sense of pride."
Partnering with the Youth
Chris took Philip's call for hands-on sessions a step further and encouraged civic advocates to act as participants themselves.
"We needed to meet the youth where they are, whether it was at a football game or cultural event," Chris says. "That's where you can start the conversation."
It's only in the midst of those discussions, Chris explains, that organizers could understand, fully, youth concerns in Malawi.
"When you are a servant leader, you are actively involved," Chris says. "You don't walk at a distance; you walk with them."
Where Do We Go from Here?
Philip met at the polls on May 21 several young adults inspired to vote by the YALI Alumni campaign. Irrespective of the results, Philip stressed, these young adults need to stay committed to their cause.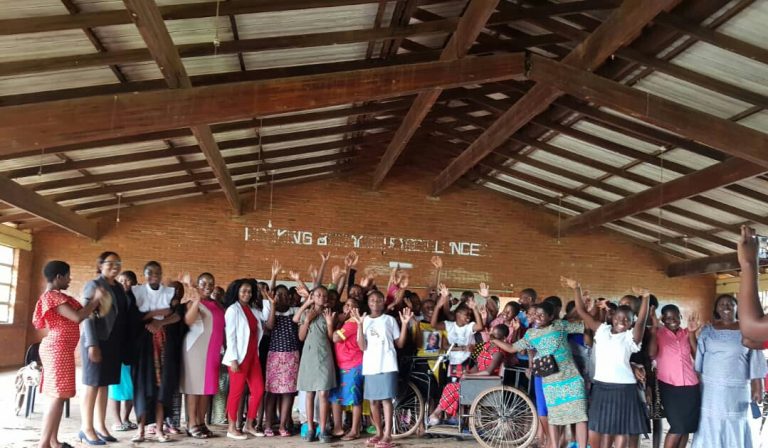 "The fact that your favorite candidate did not win is not an issue," Philip explained. "The most important thing is that you put an effort into choosing the leaders of the nation."
Chikondi seconded this and added that the task for the youth now is to act as "accountability advocates," collecting and interpreting data to ensure transparency across the board.
"It's up to the youth to work with local communities, collect data, and use that evidence to hold decisionmakers to account and to improve local services," Chikondi said.
Philip urged the youth to organize more leadership training across the nation, sessions that stress the value of advocacy today and for years to come.
"I personally pledge to reach 1,000 young adults each year with our leadership trainings, to eventually inspire 5,000 by the 2024 election," Philip explained.
"There has never been a more important time to build a culture of leadership in Malawi," Chikondi said. That culture, for all three alumni, begins and ends with the country's youth.
Interested in the work Chikondi, Chris and Philip are doing in their communities? Learn how you can make your voice heard on our YALIVotes page.
The views and opinions expressed here belong to the author or interviewee and do not necessarily reflect those of the YALI Network or the U.S. government.